Wedding Receptions
&

Master Of Ceremonies
Wedding Reception Disc Jockeys
What We Will Do For Your Wedding
Occasions Disc Jockeys...
Is run as a full-time business
Is fully insured
Buys music legally
pays income taxes
Can be reached by phone or email day or night
Is available for ceremonies, too
Occasions Disc Jockeys will...
Customize the agenda with you
Work from your song list
Work with you, the hall, and the photographer
Act as the Master of Ceremonies
Speak respectfully and act tastefully
Only use professional-grade sound equipment
Always have backup equipment
Dress appropriately
Occasions Disc Jockeys will NOT...
Play songs you don't want to hear
Tell corny jokes, be crude, or obnoxious
Have any advertisements on our system

If you have any questions, feel free to read our FAQ file, call or email us.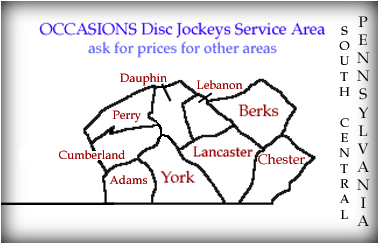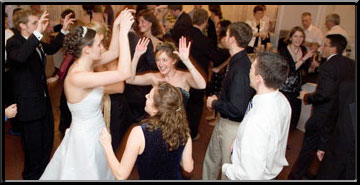 What We Do In Detail:

Completely Customized Approach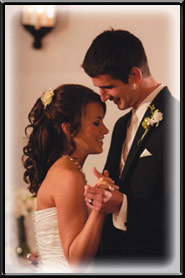 OCCASIONS Disc Jockeys is pleased to send you information about what we offer for your wedding reception. We can provide you with a traditional format and suggestions for all aspects of the day. However, we would be happy to work with you to customize the day to be exactly the way you want it. Our
preparation for your wedding
includes a thorough online questionnaire that covers everything from who is in the Bridal Party and all the
important dances
to the timeline and the type of music played throughout the night. Your DJ reviews this information with you prior to your wedding. A condensed screen shot of our forms is available to you when we give you a price quote so you can see the preparation that goes into each wedding before we arrive that day.

We Work With All The Vendors & The Couple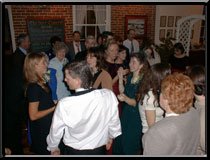 We keep the reception flowing smoothly by working closely with the people helping to make it a success -- the photographer, wedding coordinator, catering director, and everyone in the bridal party. Our sound system fits inconspicuously into any room to maintain a formal decor without banners or advertisements. Our DJ's wear formal attire and keep all announcements tasteful. While the guests are arriving, we will create a pleasant atmosphere by playing soft background music. This is important to make the guests feel welcome and relaxed. People will be put at ease walking into a room with music playing. When the Bridal Party arrives, we will organize everyone for the big entrance. We then usually have the toast, prayer, dinner (with more background music), and cake cutting.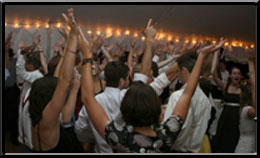 Often, the next part of the reception begins with the your choice of the traditional dances -- Bride/Groom, Bride/ Father, Groom/Mother, and the entire Bridal Party. A
sample list of some popular slow songs
will help you choose the music for these dances and create the perfect mood for the entire night. Then, we include the optional events like the Garter / Bouquet Toss and the Dollar Dance. We finish the night with a party - dancing and good music. Because weddings are our specialty, we always have a wide variety of music. Your parents, grandparents, brothers & sisters, and friends will all hear something they like and nothing that will offend them or embarrass you. Later, as the older guests leave or sit to talk, we can play music for your party crowd. Of course, the schedule is very flexible and is completely up to you.

Tasteful, Never Cheesy or Over The Top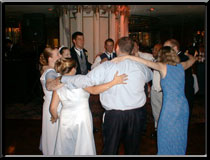 Our style is not to tell corny jokes or steal attention from the dance. We will let the music play and your guests enjoy themselves without interruptions. By using our experience in reading the crowd, we can keep the dance floor full without annoying gags or cheesy one-liners. We will work with you in advance to prepare the playlist, or our experience can be our guide for the song selections. We stay strictly within any guidelines you arrange in advance concerning the music. We will accommodate your special requests.
Our online list of songs is just a sample from our collection; it is not every song we have. Your disc jockey will review all the information you provide us and talk with you to confirm, change, or make any additions to your plans you may need in preparation for your day. In addition to providing great entertainment for your reception, we are also available to
provide microphones and/or music at your wedding ceremony
.
No Hidden Costs or Added Fees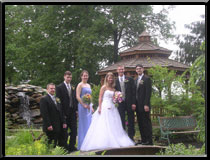 The cost for setup, tear-down and all the preparation before the wedding is included in the price quote. In most cases, we require $300.00 of the total as a retainer with our signed performance agreement to confirm the date. The balance is due 10 days before the reception. The price is based on the location, date, and any extras you would want (like ceremony music) - any changes may effect the price.
Our time starts at the beginning of the cocktail hour under all circumstances. If we provide anything for the ceremony, it is an extra fee but does not count toward the timed part.
We work continuously from start to finish without any breaks.
HOW TO BOOK OCCASIONS
Due to the limits of the industry, we book the first person to sign a performance agreement. We do not hold dates for a price quote. Simply call (717) 361-2917 or email and confirm the reception date, location, and your mailing address. At that point, we will hold your date for you until we mail you the performance agreement and receive it back with the retainer. If you would like to schedule a free, no obligation consultation before you book please contact us.
Best wishes, and thank you for considering OCCASIONS for your wedding reception.