Weddings
&

How We Prepare For Them
Lancaster Wedding Disc Jockeys
MASTER OF CEREMONIES
INFORMATION
We spend a lot of time before your wedding day preparing the music and finding out about the schedule. You can completely customize what you want to include and what you don't want to include in the day. The same goes for the music. You can request as many songs as you want and request that certain songs are not played. If you fill out our price quote form, we will set up an account for you so that you can see our complete Master of Ceremonies forms - without obligation. We will show you small sections of it here to give you an idea of how extensive and complete they are.



One of the most exciting parts of the day is the introductions of the bridal party and the bride and groom. We want to know the correct pronunciations of everyone, the order they will be in, and the background songs to be played. But we don't stop there. The day of the wedding, the DJ will personally come out to where the bridal party is and make sure that everyone is in the same order that he will introduce and will verify with each person that he is saying their complete name correctly. He will take a moment and prep anyone giving a toast on how to sound better, and confirm with the couple everything that will happen before the meal is served.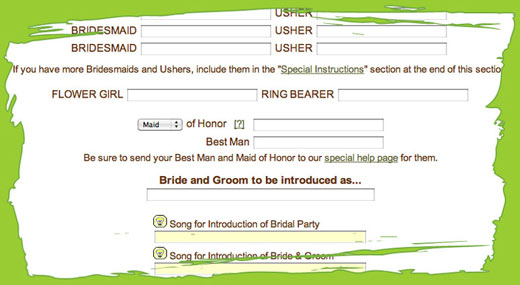 Your DJ will be working closely with the caterer, the wedding coordinator, and the photographer. So we want to know what schedule you have for the night. Although we ask the order of the events and what time they will take place, we are flexible - we know that schedules at weddings may change.

There are lots of different formalities that you may or may not want to include in your wedding day schedule. So there are no surprises or events you don't want, we find out exactly what to do from the most important events like your first dance, to the extras like the garter/boquet toss.

We want to personalize the music as much as possible. In addition to taking specific requests you want to hear (and songs you don't want to hear), we find out what types of music you like. That helps us fill in the blanks for the dance after we have played your requests.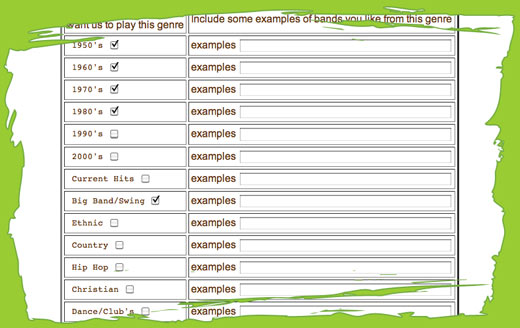 Taking guest requests and levels of DJ interaction can be tricky. If we are allowed to take requests, we may not play all or your requests. So, we need to know how we should handle requests that we get. Specifically, we want to know how to handle the line dances. In our experience, we have found 2 things to be true:
1. Line Dances work in getting people on the dance floor.
2. Lots of people hate those songs.
We want to find out how you want us to handle requests and popular songs.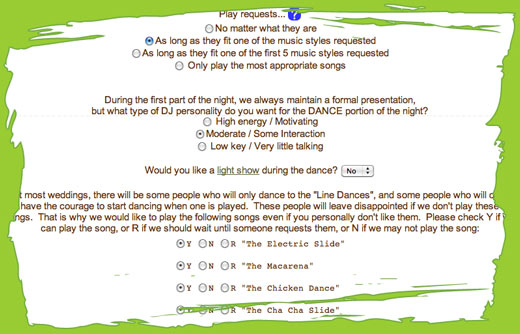 Finally, there are lots of little details that help ensure that the day runs smoothly and we are prepared for anything.