Reviews of Wedding Disc Jockeys
As you consider all the important aspects of your wedding reception or any party, you may think of the disc jockey as merely the music source. However, your DJ will probably make one of the most lasting impressions on your guests (next to the Bridal Party at weddings). Your friends and family will remember how the DJ played the music too loud over dinner or made inappropriate remarks trying to be funny. They will also remember a great time if your DJ is a skilled professional attentive to you and your special day.

To help protect the privacy of our references, their contact information is not on this page. If you would like to contact them, please ask us for our information packet and we will be happy to mail the list with email addresses. There is no obligation to request our information packet.


















Press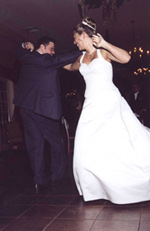 NA
means they did not answer that question.
Testimonials may be edited but only for clarity or continuity, never to change the meaning of the text.