Questions About Wedding Disc Jockeys
Frequently Asked Questions
How do I book OCCASIONS?
How is a reception defined for the DJ?
How can I compare OCCASIONS to other companies?
What light show do you offer?
When do the contracted hours start?
What do your DJ's wear to weddings?
Do you have a written contract and what does it include?
What types of music do you have?
Are there any hidden fees I should know about?
Is your company insured?
Why don't you offer a flat rate?
Do you perform at wedding ceremonies?
Are you obnoxious or cheesy?
Is a wireless microphone available?
How do you handle our requests and those of our guests?
Is it a good idea to have the guests make a request in their response card?
How long do you take to set-up before an event? Is that time part of the total hours?
Can we change the start and end times?
What equipment do your DJ's use?
What happens if the equipment breaks at an event?
My family is difficult to get dancing, what can you do?
Is it true that you get what you pay for?
Who will be my DJ?
Why do you ask for a meal at the reception?
Can I meet my DJ before I sign the contract?
What happens if our DJ is sick the day of the event?
Can we see our DJ perform at another function?
Will you play my very rare song requests?
Do you take any breaks?
How much space do you need?
Is there a phone number that we can call if we have a problem on the day of the event?
What other extras are available?
I have a discount card from my venue.;
What are your policies for outdoor receptions?
Is OCCASIONS hiring?
What if I have more questions?
---
How do I book OCCASIONS?
As soon as you make your final decision, contact us. Once we check our schedule and confirm that we are available for your event, we will hold the date for you until we can take care of getting the contract signed and the retainer mailed to us.

---
How is a reception defined for the DJ?
We define a wedding reception as beginning with a cocktail hour, then progressing through the rest of the evening. The importance of this, is that our price is based on the assumption that our time will start at the beginning of the cocktail hour. We will be set up and ready at that time. There are no exceptions to this rule. If you need service for the ceremony, too, our time starts 1/2 hour before the ceremony and goes continuously until the end of the reception.

---
How can I compare OCCASIONS to other companies?
Simply ask yourself, "Who seems to really know how to lead my wedding night?", "Will they be thoroughly prepared for what I want for my wedding reception?", "Is this company just giving me empty jargon or real facts about the way it works?"
We know of at least local 2 companies that claim to be the only one in this area with complete computer DJ systems.
Some companies may claim to be "award-winning" or "nationally recognized". But if they don't tell you which awards or who in Arizona recogizes them, you can be pretty sure they are just trying to impress you with fancy catch-phrases. Our web site tells you everything we offer. We aren't recognized nationally, however, we have many
local clients
and other wedding professionals who speak highly of us (we are compiling a list of vendors that recommend us). You can even
contact them
to make sure they are real.
Some companies claim to have the largest music collection in the area. We have over 50,000 songs. I challenge any DJ company to prove they have a significantly greater collection of songs that people
would want to hear
at an event.
All these claims to have the best technology, largest music collection, loudest sound system are forgetting the D.J. and his talent will make or break your big day. We stress our skill at the important details involved in a wedding reception. Of course we have quality hardware and extensive music, but we know how to use them to make your wedding a success.
Comparing Apples to Apples
I'm sure that every disc jockey company you have contacted has given you a different formula for how they charge you. Some make you pay a fee for everything from the microphone to the sound system, as if those are optional for a wedding. Some charge you a flat rate for the whole day, which means a four hour wedding locally costs the same as a 7 hour wedding 2 hours away. Some charge you for the time that they are setting up. Some include props and things that you may not want at your wedding. So you have to evaluate the service you want and its cost. If you get a price quote for $700 for unlimited hours, but you can only have a 5 hour reception, you are paying $700 for 5 hours. If one company's 4 hour rate is low, but you have to pay for the time they are setting up, their rate is actually higher.
The bottom line is how much will you have paid if you add up all the checks you wrote to the DJ. With OCCASIONS there are no hidden fees. The charge for our wedding package is prominent on the price quote and the contract. In Pennsylvania, there is no sales tax on entertainment services. The rate if you go longer than expected is also indicated. We charge based on the length of the performance, not the set up time. If you add up what you have paid us at the end, that will be the same as what is printed on the contract. Fair charges for only the services you received from us. We don't "nickel and dime" you for all the essential elements of a DJ package and we don't charge the same for a 4 hour Lancaster wedding in March that we charge for a 7 hour June wedding in Philadelphia.

---
What light show do you offer?
Occasions does some school dances. So we have an extensive light show. For weddings, we offer, at no additional cost, 2 or 3 pieces of our light show. That will give the people on the dance floor something exciting but won't be annoying to the people who are sitting and talking on the side. We only set up lights, by request. We do not bring them with us unless we know you want them. Be sure to request them before your wedding day. Some tent weddings and a small number of other locations may not have the power needs to run our light show. Below is a sample picture of what we might bring, if requested, for a light show.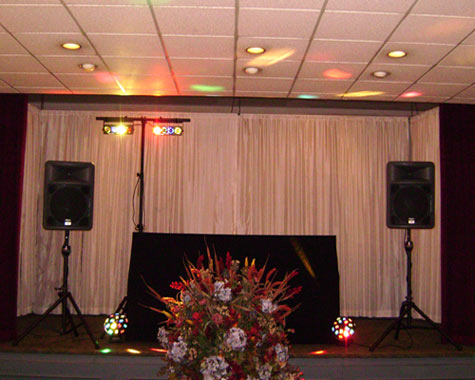 Click here for a video

---
When do the contracted hours start?
Our start time calculation is divided into 2 groups.
The first is if we are just performing for the reception. For our contract, the beginning of the cocktail hour is our start time. However, if your guests arrive more than 15 minutes before the start time, our start time is when more than a few guests arrive at the cocktail hour. So, if one couple gets stuck in traffic and decides to skip the ceremony and head over to the reception, our time will not start when they walk in the door. However, if 20 guests are in the room a half hour before the start time, our time will start. Please note, our time starts at the beginning of the cocktail hour, even if you have musicians playing or do not request us to play.
There are NO EXCEPTIONS to this policy. Even if we are not allowed to set up in the area that the cocktail hour takes place, the price quote we gave you was based on starting our time at the beginning of the cocktail hour
. We can set up our backup system to provide custom music for your guests in the cocktail hour room. There is no set up fee for this.
If we provide music or microphones for the ceremony, our time starts 1/2 hour before the ceremony and continues until the end of the reception.
In either case, once the time starts on our clock, it does not stop until we begin tearing down to go home.
One reason for our policy on start time is so that we neither look bad in front of your guests nor are a distraction to your day. Part of our setting up process involves a sound check of the music and the microphones. This would not be good to do in front of your guests. Providing background music for the cocktail hour is completely different than providing the dance music or even the formatlities of a wedding. Our wedding package is priced to include an hour for cocktails. But, even if we are not playing music for you, our contract is based on our time beginning of the cocktail hour.

---
What do your DJ's wear to weddings?
We wear formalwear. You can request us to wear suit and tie or attire that compliments your theme, but we dress formally for weddings unless you ask otherwise. If a disc jockey does not automatically wear formal attire, they probably don't do too many weddings. Any professional in the wedding market should not have to be told to wear formal attire.
For other events, like class reunions, holiday parties, school dances, we wear appropriate attire. That ranges from suit and tie to casual. If you have a preference, let us know in advance.

---
Do you have a written contract and what does it include?
Like all professionals, we use a written contract to protect both of our interests. Ours includes the location of the event, the date, the times we will perform, your total cost, when payments are required (in most cases, $300 with the contract, then the balance for 4 hours is due ten days before the wedding. Any charges for extra hours must be paid by the end of the reception), and how much additional hours cost. However, full payment is required with the contract if the wedding is less than 1 month away. You can view our contract online, by request. Some other details: we ask that the DJ be provided a meal if one is served (a 4 hour reception is about an 9 hour day for your DJ), and that we need a table provided by the hall. We do not bring a table, that must be provided by the hall. We also have requirements about the location of the DJ - basically, if we are not in the same room as the guests or there is a wall between us and the guests, we cannot do our job properly.

---
What types of music do you have?
We have a very wide variety of music. Because we mostly do weddings, we expect that there will be a lot of different people there who all want to have fun. Your grandparents, parents, aunts/uncles, nieces/nephews, co-workers, friends, and out-of-town guests will all have a different idea of good music. Especially, at the beginning, we play music that everyone can enjoy, and no one will be offended by. Later on, as some people leave or sit down to talk, we can play the music that the party crowd will like. In addition to music going back to the big band era up to the current popular music of today, we have a good selection of country, alternative, christian, and latin music. We have polkas, jitterbugs, waltzes, and other ballroom dances. For the cocktail hour and over dinner, we have a wide variety of music. There is jazz, classical, the vocalists, light pop hits, instrumentals, piano music, etc. We like to play a mixture of all of these types so that everyone will hear something they like.
The music we buy is either the album version or the radio version. We make sure that it is radio friendly - meaning that it does not have the words not allowed on radio. That can mean that there are still objectionable words or messages. We do our best to avoid the songs with vulgar messages but we cannot always be sure that a song will offend you or not. If there is a popular wedding song and you don't want to hear it, it would be best if you specify that in our paperwork.
We do not buy special versions for your event. We do not buy remixes, mashups, or specific versions from a different album. If there is a different version that you want played, we will have to borrow your CD's. The version we use is the popular version that people familiar with the song will know. That is usually the album version or the radio version.

---
Are there any hidden fees I should know about?
There are no hidden fees with OCCASIONS. If the contract says the total is $850, when it is all completed, that is all you will have paid us. The price is based on the date, location, and number of hours. The only way the total due would change is if one of those factors changed. The only additional fees that are specified in the contract, are if you want to reserve a specific DJ, if we have an unexpected second set-up (this is usually if someone decides after signing the contract that they want us to provide music and/or microphones at the ceremony and it is at another location), if your check is returned from the bank, or you do not pay the entire balance on time.

---
Is your company insured?
Yes. Our DJ's are covered with liability insurance. I depend on the continued success of OCCASIONS for my livelihood, so it just makes sense to protect ourselves and our clients. I will be operating the company for a long time into the future. Insurance coverage is essential for that plan.

---
Why don't you offer a flat rate?
Because every job is different. We don't want you to have to pay for more than what you are getting. We want fair payment for the services we do provide. Most weddings are 4 or 5 hours long. If we charged you a flat rate, we would have charge you as if your wedding was going to last 6 or 7 hours like many receptions do. If you compare it to a restaurant, and you came in for a light snack and drink, it wouldn't be fair to charge you the same as someone who was ready for a full meal. Some people want us for 4 hours, some people also want us to provide music and/or microphones at a ceremony, some people want uplighting, photobooth, etc. Our wedding package includes everything you need for a great reception, there are no hidden fees and no charges for things you don't want. A lot of the price quotes we give are for different amounts. The biggest reason is because we will only charge you for what we do and the services we provide, no more, and no less. The factors that most often change our price rate are the day of the wedding and how far we have to travel and work to get to your reception or the extra work required to set up at the location.

---
Can we see our DJ perform at another function?
Most likely not, because we mainly do private affairs like weddings. You would not want strangers coming into your wedding or your DJ taking time to make a sales pitch in between songs.
Another reason is because weddings are so important, we don't want to be distracted wondering if a potential client is there during dinner. Or maybe you walked in when the dance floor cleared even though we were just playing a request of our bride and groom. Maybe you stopped by when we were playing requested country and you don't like country. Each wedding is planned to be unique. Even if you were a guest at a wedding we were at, we could do your wedding totally different. We have even been hired by 2 sisters and the second one said that she wanted to opposite of everything that her sister wanted. Some weekends we have done a Friday wedding that wanted typical wedding music, a Saturday that wanted mostly recent music, and a Sunday wedding that provided a list of most of the songs played during the night.
Also, because weddings are private events, we would not be comfortable bringing in univited guests. Most reception rooms do not have a way for outsiders to see and hear what is going on without being right in the room where you and your guests are. And if a DJ lets you come to someone else's wedding, they will probably invite strangers to your wedding.
We have a long list of references. You can ask those people how well we interacted with the crowd, if we led the events, and if they had a good time. There are also websites that have message boards that you can post questions for other brides. We also suggest that you ask your other vendors: your photographer, caterer, banquet manager, etc. They work with DJ's all the time. Many prominent companies recommend us. You can also set up a meeting with us to see how plan and run a wedding.

---
Do you perform at wedding ceremonies?
Yes. When considering wedding vendors for your ceremony, consider us. But make sure that the ceremony site will allow a DJ. If you are having an outdoor wedding, be sure to have covering for us or a back-up location. We have all the popular traditional songs from classical elegance to modern alternatives. If you are looking for a way to cut expenses, consider having your D.J. perform at the
ceremony
, too.
There are 3 main advantages to hiring Occasions for your wedding ceremony
Price. Generally, no quartet can compare to our price. We will already be at the site that day, and only have to pay one Disk Jockey.
Selection. We offer the same 50,000 plus songs available for the reception. You can have any song you want played for the prelude, processional, recessional, postlude, and any songs during the service.
Microphones. We provide 2 wireless microphones. One clip-on, or lavalier, microphone is clipped on the officiant. That will pick up your vows, too. The other wireless microphone is for any reader or soloist you may have. Especially, in outdoor settings, or large weddings, a microphone is essential for everyone to hear.

---
Are you obnoxious or cheesy?
Absolutely not. This is not a night out at the bars with just your friends. Your parents, grandparents, co-workers, and nieces & nephews will be there. This is a special day to celebrate with those most important to you. OCCASIONS will fit in with your festivities. Your DJ will wear formalwear and make sure that our sound system fits in with, not clashes with, the formal atmosphere. But beyond that, there will be no signs or banners on our system, we will not insist that our business cards be placed on your guests plates, and we will not spend the whole night mentioning OCCASIONS over the microphone. We do not jump off the speakers or do anything tasteless, vulgar, or lewd. We do not assume you want inflatable props or instruments, hats, or wigs. We do not embarrass people or play inappropriate requests. After all, you are the center of attention, not the DJ. Our job is to fill the dance floor. We are there to create an atmosphere of fun for all in the context of your wedding day - a day shared with your close family and friends.

---
Is a wireless microphone available?
We are professionals who are prepared for every wedding. We couldn't properly do a wedding without a wireless microphone for the prayer and the toast. Therefore, we always bring one to every wedding. If we are providing music and/or microphones at the ceremony, we will have the hand-held microphone available. A lapel microphone can also be brought, if requested.

---
How do you handle our requests and those of our guests?
Your requests, we play. How we handle the others is up to you. In our MC Forms, we ask how to respond to requests: play them all, play them as long as they are not too different from your requests, or stay strictly within the guidelines given to us. We will never play inappropriate songs without your approval. We get a general idea of your tastes, suggest some songs, and leave room for you to write songs you want to hear
and songs you do not want to hear
. The first 2 hours or more are background music and then formal events. Then we have an open dance floor for 1 1/2 to 2 hours. There are approximately 17 songs played per hour (based on an average of 3 1/2 minute songs). If you pick 50 dance songs for us to play, you really aren't hiring a DJ. Keep in mind why you hired a DJ and didn't just make some mix tapes. We are trained and experienced to read a crowd and react to what is working and what is not working at a dance. If you insist that we play your pages of requests, we will. But our experience has shown that most of those parties are not fun for the guests. Your guests will leave early if they don't hear the music they like and they want to dance to. Our job is to make sure everybody enjoys themselves. And take it from a music fan, I do not remember more than 3 songs my DJ played at my wedding. I just remember he had my family and me dancing all night long.

---
Is it a good idea to have the guests make a request in their response card?
We do not recommend this for many reasons. A major concern with this is that because the guest provided the request in writing in advance, they will be especially disappointed or angry (yes, guests do get angry at a DJ who cannot play their request) if they do not hear their song. There are lots of reasons why we might not play their song:
A large majority of the requests are slow songs. We do not play enough slow song to play them all
We only play 17 songs an hour. With just 60 requests, we would not be able to take any new requests, play all the requests, or read the crowd
Guests may request songs that you don't want played. Then, you either have to allow it or make the guest angry when the request they made in advance isn't played
We don't know if the person who requested the song actually attended the wedding
We don't know if the person who requested the song has already left
When people are at a dance, they will be thinking of dance songs. At home, a lot of times they request songs you can't dance to
Another effect of requesting songs at home is that people who wouldn't dance anyway make requests that maybe no one wants to dance to
Only the person who fills out the reply card will be able to make the request
If you allow the DJ to take requests following your guidelines, the requets will be from people there, who want to dance, and are in a dancing mode. It also keeps the requests down to a level that allows the DJ to still read the crowd and get all of the songs you want played on. In our experience, every time the guests have compiled a request list in advance, it is filled with songs that will hurt the party. By going from the pre-set list instead of reacting to the crowd on the dance floor, the party is not improved.

---
How long do you take to set-up before an event? Is that time part of the total hours?
We plan to arrive two hours before the start time to set-up and do a sound check. The contracted times are for our performance. The charge for travel, set-up, and tear down are included in that total rate. We do require that we have access to the room for a full hour before we start. The actual time it takes to prepare is very short. The reason we arrive an hour and a half before is in case we are delayed by traffic, locked doors, etc. During that time, we will be bringing in our equipment, setting it up, and doing a sound check. Especially in the summer months, we may be in shorts, or casual clothes. If you are having the ceremony within view or within hearing of where we will be performing, it could be distracting to your guests, and prevent us from doing a sound check - generally looking bad. Make sure that you let us know if you need us to be ready earlier than our start time. We do have an option that allows us to set-up early.

---
Can we change the start and end times?
Of course. We are very flexible with the times for a wedding. We know that when you book us 8 months in advance, as you get closer to the wedding day, the times may change. Just let us know. We are also flexible with the ending time. In most cases, we are available for overtime at the end of the contracted times. We don't want to end the party if there are people still dancing and having a good time. The main reason we would not be able to stay for overtime is if the hall doesn't permit it. Sometimes they book 2 receptions and you have to be out by 4 PM or 5 PM.

---
What equipment do your DJ's use?
We use professional quality disc jockey sound equipment. Each DJ has his own system, so the brands vary, but we only use high quality audio equipment. Each disc jockey has back-up equipment with him and there is an unused, complete system available. Every system has a wireless microphone available for the prayer and toast. All music is either from compact disc or legally owned mp3's.

---
What happens if the equipment breaks at an event?
Like all professional wedding vendors, we have many safe-guards. To prevent problems, we don't keep a sound system in use as long as we could. We keep up on repair and maintenance with our equipment. But if anything should ever happen, there are several solutions. First, the sound system is the same one that we use in gymnasiums and at school dances. If one speaker or half the amplifier go out, there will still be plenty of sound available. Wedding volume is a lot lower than at school dances. We have two microphones at every job and extras of important cords and connectors. We have a backup system with each DJ in addition to the main system which includes back up of our music. We have a complete system that is kept out of service each weekend. This system can be brought to a job immediately if needed. Third, we have a large network of "friendly competitors". We can call many DJ's in the area who would be more than willing to help us out. We have never had to do this. However, other DJ's have called us and we helped them as best we could.
Being in the wedding business for 20 years has allowed us to see and solve many different situations and problems. We have to experience to avoid most problems and minimize their impact if they do arise.

---
My family is difficult to get dancing, what can you do?
"Don't let anyone else have more fun than you at your reception."
That is a very good piece of advice one groom told us he received. We agree. The first thing we would recommend is that you help start the dancing. Your family and friends are not going to leave the bride on the dance floor alone. We also begin the dance with irresistible songs that will get everyone moving. We have many ways to get people on the dance floor. After the bridal party dance, we can play another slow song and announce, "Everyone in the bridal party, go get a new partner." Then, after a minute, announce, "Everyone on the dance floor get a new partner" until the floor is full and we play a dance song that everybody likes. We can also tell that crowd that the bride and groom have one more formal event they would like to do. We would ask everyone to form a circle and hold hands around the bride and groom on the dance floor. Then instead of you reading a poem or something, we hit "The Chicken Dance." We also do the garter/bouquet toss immediately after the formal dances to get the people on their feet. The main technique we use is our experience and ability to read a crowd to play the music that will keep everyone dancing all night long.

---
Is it true that you get what you pay for?
Of course, to some degree that is true. There are many DJ's without wedding experience that will charge less than us, and there are some companies that have extra options or celebrity DJ's that charge more than us. However, our belief is that most of the time when people say, "You get what you pay for", they are just trying to justify overinflating their prices. We believe you can get a great DJ at many different price levels. Shop around and compare service, value, and that intangible "gut feeling". You can find a DJ that you will be happy with for a lot less than what some companies tell you that you have to pay in order to be happy. Remember, they are trying to scare you into hiring them. Is that the basis for a good relationship while you plan your wedding? Reading DJ promotional materials (I like to keep track of my competition), I would believe that Pennsylvania's "leading wedding entertainer" is a DJ in Erie,
and
one in Harrisburg,
and
one in Philadelphia. Or 3 different companies are the "first and only" local ones with completely digital systems. I hope that our web site answers your questions about OCCASIONS so you can compare the facts. We don't say "best", "only", or "leading". It only matters if we are a good match for you.

---
Who will be my DJ?
OCCASIONS is a small, independent company of 4 DJ's. Any one of them will do a great job at any wedding. We are all wedding experts with years of experience. We focus our business on weddings. Your DJ will be assigned based on availability, your taste in music, and the personality of the DJ you are looking for. Once your DJ has been assigned, you can talk to him as often as necessary or set up a meeting to make sure that he understands what you want for you day. Sometimes, one of our DJ's has made a strong impression at a previous job and you would like to have someone specific at your event. You can guarantee a specific DJ at your wedding as an optional extra. If you would like to specify a DJ for your event the cost is $50 paid at the signing of the contract.

---
Why do you ask for a meal at the reception?
Most wedding reception contracts are 4 or 5 hours long. We perform at many that are longer. However, our work day is longer still. Using an example of a short, 4 hour wedding starting at 5 PM, this is your DJ's timeline:
2:00 PM
Take equipment out of storage and load into vehicle.
3:00 PM
Drive to location (this example is only 30 a minute drive to the location, but it could easily be an hour or more).
3:30 PM
Arrive at location, unload vehicle, walk equipment into hall, set up equipment, do a sound check.
5:00 PM
Reception starts.
Throughout the 4 hour reception, we will be doing a lot of coordinating with the hall manager, photographer, the bride and groom, and others all while finding another song to play every 3 to 4 minutes. Then the dance will start. Most people want an interactive, high energy DJ at this point (in this example, that would be around 7:30 - 7:45 PM or almost 6 hours into our work day).
9:00 PM
The reception is over. Now the DJ must tear down the equipment, transport it back to his vehicle, load it in the vehicle, and leave (think about how far from the curb your actual room is then image walking that with DJ equipment a few times).
9:30 PM
Drive back to office.
10:00 PM
Unload vehicle and put equipment back in storage.
10:30 PM
Work day is finished.
In just a 4 hour contract, we will be doing very physical labor, walking, standing, and in general, working, for 8 hours and 30 minutes (once again this is a very short day for us, typically we will work 9-11 hours with even more time for the high-energy dance portion).
We don't stop the music, but, like any worker, we deserve a time to eat. We aren't always at a location that has nearby food, we would rather not eat junk food while entertaining at your special day, and we won't leave half way through your reception to search for a meal. But we will get hungry.
Towards the end of the night, when you want a high-energy DJ motivating your guests to have fun and dance, you will be glad that your DJ is focused on entertaining, not distracted by hunger.
A well-fed DJ is a happy DJ. And a good time is contageous.

---
Can I meet my DJ before I sign the contract?
The only way that is possible is if you are going to pay the $50 to reserve a specific DJ. Otherwise, you can find out who your DJ is about 4 weeks before the wedding and after you send in the Master of Ceremonies Forms and Song Requests. We don't know what type of DJ you want until we get our information sheets from you. As the owner of the company, I run the business as a full time job. I am available to meet and discuss our company procedures, and DJ skills, go over our preparations, and answer any questions you have before you sign. We have an option, usually taken by people who have seen one of our DJ's before, that allows you to reserve a specific DJ. This costs $50 extra. If you have seen our information and still are not comfortable not knowing who your DJ will be, we recommend, for your piece of mind, that you pay the extra $50 and reserve a specific DJ from our company. Once we find out specifics about your wishes and ideas for your reception, we will match a DJ with you. You may talk to, or meet your DJ well in advance to make sure that your DJ knows what you want and that you are comfortable with the preparations.

---
What happens if our DJ is sick the day of the event?
We have a very good team that understands the importance of committing to perform a job. We have never had a DJ call in sick for a wedding. However, we understand it could happen. We have several former DJ's that have gone out on their own that we can call. As mentioned before, we also have an extensive network of capable DJ's we know in the area that would help us out if that was ever needed. We have never had to contact another DJ company to fill in for us at the last minute, but several have called us and we have always helped out when we could. &nbspYour wedding day is too important to us not to many different back-up plans.

---
Will you play my very rare song requests?
We have a large collection of songs that people like to hear and dance to. If we do not have your requested songs, we will do our best to find them. If the song was never popular or is no longer available,we may need to use your copy. This may include songs that were never in the Top 40 for more than 5 weeks or are over 15 years old. Part of the reason we need the forms 6 weeks before the wedding is to give us time to find any song we don't have that you want. Generally, if we do not own the song and it is not available on iTunes or Amazon, we will need to borrow your copy.

---
Do you take any breaks?
No. If we need to do anything, like take a bathroom break or eat, we do it during the songs. There will be continuous music except for announcements and formal events like the prayer and toast.

---
How much space do you need?
Ideally, we require one(1) rectangular table that is 3 foot by 6 foot so that the table is in front of us facing the dance floor. We can squeeze into smaller areas, if necessary. However, we do need a certain amount of space to do our job properly. We bring two speakers that we place on stands. These will be placed for best overall sound. Please don't have any tables or walkways between our table and the dance floor. It would be best if our table is right next to the dance floor. We want to make sure during the dinner and cocktail hour everyone can hear the music and our introductions, the prayer, and toast. In order for the guests in the opposite corner to hear us, the sound might be a little loud for people if there is a table immediately in front of the speakers. We recommend that you do not put older people at these closest tables. We want everyone to be able to hear without being too loud for anyone. Once the dancing starts we may shift the direction of the speakers or even the placement to maximize the sound on the dance floor.

---
Is there a phone number that we can call if we have a problem on the day of the event?
Yes. As owner, I forward the calls to my cell phone whenever I am out of the office. I am available especially all day Saturday and during jobs. If you have a problem, you can reach me. In addition, I have evening hours for appointments and phone calls to plan for your wedding.

---
What other extras are available?
We try to keep our company simple. We don't stray into areas that are outside of our expertise. We don't do photography, invitations, or even sell party favors (they are available at party stores a lot cheaper than any DJ could offer them). We do offer two things. The first is a light show. Our wedding light show is available at no additional cost. We do a lot of school dances so we have an extensive collection of lights that flash or spin or go with the music. We don't bring any of them to weddings unless requested. If you are interested in lights, we can bring 2 or 3 pieces from our light show that will give the people on the dance floor something exciting but won't be annoying to the people who are sitting and talking on the side. The second option is games. We assume you don't want any games at your wedding, but if you have a large group of young people or a group that just won't get out of their seats to dance, we can lead some games. Some of our games require props. We don't bring these unless requested. Be sure to mention to us in advance, if you want any of our
games
.

---
I have a discount card from my venue.
If you have a discount card, it can only be used to pay the retainer. It is not valid for contracts already signed and cannot be used to pay the final balance. You must hire Occasions for a minimum of 5 hours on a Saturday for a wedding. It is not valid for other events. No other discounts permitted. Only 1 discount can be used per client. This is a limited promotion and may be cancelled with 30 days notice on our web site. In order to claim your discount mail the card in with your contract and the remainder of the retainer required to reserve your date. Once the contract is finalized, no new discounts will be honored.

---
Is OCCASIONS hiring?
If you are a top notch DJ and a wedding expert who is committed to making sure everything goes perfectly, contact us. We are always interested in hearing from other DJ's. Our standards are very high. You must not only have an excellent music knowledge and impressive DJ skills, but you must be a wedding expert completely devoted to customer service.
Job Opportunities

---
What are your policies for outdoor receptions?
We require:
Covering. Storms can come too fast for us to move. The sun can be too hot for our equipment. There is just too much to worry about without covering.

We must be under a tent, a roof, or something the entire time.
It must cover at least 5 feet beyond our system and DJ space on all sides and not allow rain to fall on our equipment in any situation.

Standard Electricity.

We do not operate using generators. We must be plugged into the public electrical grid.
We need at least one (1) 20 amp circuit. A second is required for lights.
We will not run more than 300 feet of extension cord to the site.
We cannot share our circuit with the anything else, including catering or decorative lighting.

We must be able to drive or push a hand cart to the site.

We have over a dozen pices of equipment, we cannot individually walk them down a dirt path through the woods.

Solid floor. We require a dry surface to put our equipment on and work on. We recommend a solid flat surface for the dance floor. Bumps and dips in your floor can cause lots of problems which you do not want to ruin your perfect day.
Final Say.

We must protect our equipment and ourselves.
If there is any reason we are not comfortable with the set up, we will not set up.
If you have any concerns, talk with us as soon as possible.