Wedding Ceremonies
&

Ceremony Music
Wedding Ceremonies - Disc Jockeys
MUSIC FOR YOUR WEDDING CEREMONY
Music adds an indescribable element to any event. It sets the mood, evokes feelings and emotions, and makes a lasting impression on everyone. Music at a wedding ceremony creates the first impressions of what your wedding will be, entertains guests while they gather, adds flair to your wedding, and highlights important aspects like your entrance and exit. Below, each segment of the ceremony is described and you are told approximately how many songs you may need. Some suggestions are given. If you hire OCCASIONS Disc Jockeys for your wedding ceremony, you can pick all the songs, none of the songs, or just some of them and leave the rest to us. Be sure to think of some extra songs that can be included should you need to fill time.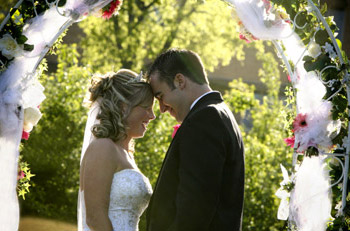 PRELUDE - Light music played as the guests arrive. This gives the first impressions about the celebration. It can reflect your theme, your surroundings, or your favorite songs. This will last 30 to 45 minutes. You will need 10 to 15 songs. Some possibilities are:
classical, mellow jazz, light R&B hits, new age instrumentals, or Gregorian chants.

| | |
| --- | --- |
| "Suite in D" - Bach | Chopin |
| "Water Music" - Handel | Handel |
| "Benediction Nuptiale" - Saint-Saëns | Bach |
| "Violin Concerto in A" - Haydn | Enya |
| "Allegro: Brandenburg Concerto No. 4 in G" - Bach | Kenny G |
| "Adagio: Sonata in E Flat" - Mozart | John Coltrane |
| "Largo: New World Symphony" - Dvorak | Stevie Wonder |

See also our Slow Song Suggestions



PROCESSIONAL - Entrance of Bridesmaids and Bride. Often this is a march but, at least, should be bold and dramatic. You will only need one song for this. You can have one for the Bridesmaids and a separate one for the Bride.

"Wedding March" from The Marriage of Figaro - Mozart
"Canon in D" - Pachabel
"Bridal Chorus" from Lohengrin - Wagner
(AKA "Here Comes the Bride...")
"Trumpet Tune" - Purcell
"Trumpet Voluntary (Prince of Denmark's March)" - Clarke
"Wedding March" - The Sound of Music
"Wedding March" from Midsummer Night's Dream - Mendelssohn
"LeRondeau (Masterpiece Theatre theme)" - Mouret


ELEMENTS OF THE CEREMONY - Times during the ceremony that you want music to highlight (lighting unity candle, exchange of rings, etc.) or have songs included by themselves (ethnic or religious traditionals, etc.). Here are some songs that you might choose, if you include any of these elements.

| | |
| --- | --- |
| "Hallelujah Chorus from Messiah" - Handel | "Ave Maria" - Schubert |
| "Through the Eyes of Love" - Melissa Manchester | "Jesu, Joy of Man's Desiring" - Bach |
| "One Hand, One Heart from West Side Story" - Bernstein & Sondheim | "The Lord's Prayer" - Malotte |
| "Irish Wedding Song" traditional | "Amazing Grace" traditional |
| "Sunrise, Sunset from Fiddler on the Roof" - Harnick & Brock | "Ave Verum" - Mozart |


RECESSIONAL - Music played while the Bride, Groom, and Bridal Party leave. This should only take 1 song.

| | |
| --- | --- |
| "Pomp & Circumstance" - Elgar | "Wedding March" from Midsummer Night's Dream - Mendelssohn |
| "I Gotta Feeling" - Black Eyed Peas | "Beautiful Day" - U2 |
| "I Feel Good" - James Brown | "Penn State Fight Song" - Penn State Marching Band |
| "Celebration" - Kool and The Gang | Many PROCESSIONALS are good here also |


POSTLUDE - Music that creates the transition from the formal ceremony to the festive reception. The celebratory music continues as the guests leave. This will take up to 15 minutes. It takes longer if you greet the guests as they leave the ceremony or if you have a large number of guests. You will need 4 to 7 songs.

| | |
| --- | --- |
| "I Can See Clearly Now" - Jimmy Cliff | "Celebration" - Kool and The Gang |
| "Chapel of Love" - The Dixie Cups | "In Your Eyes" - Peter Gabriel |
| "I Got You Babe" - UB40 with Chrissie Hynde | "I Feel Good" - James Brown |
| "Here Comes the Sun" - The Beatles | "You Got It" - Roy Orbison |
| "Got My Mind Set On You" - George Harrison | "Good Times Roll" - The Cars |
| "Can't Help Falling in Love" - UB40 | "Every Heartbeat" - Amy Grant |
| "LeRondeau (Masterpiece Theatre theme)" - Mouret | "In My Life" - The Beatles |
| "(If I Could Only) Whisper Your Name" - Harry Connick | "Good Times" - Chic |
| "Theme from Chariots of Fire" - Vangelis | "The One" - Elton John |
| "When The Saints Go Marching In" - Purvis & Black | "Let's Groove" - Earth, Wind, and Fire |
| "I'll Take You There" - General Public | "Emotions" - Mariah Carey |

Any of these songs would be good for the introduction of the Bride and Groom at the reception.


IMPORTANT INFORMATION ABOUT CEREMONY MUSIC
If you are hiring a disc jockey for the wedding ceremony, you must know the guidelines provided by the ceremony hall. Some do not allow secular music or require you to use their musicians. Some outdoor sites do not have electricity. You will need to find out the answers to these questions to prevent any problems on your wedding day:

Will the ceremony site and officiant allow a DJ to perform at the ceremony?
Is there a standard electrical outlet within 100 feet of where the DJ will be?
If the ceremony is outside, is there cover or a backup plan for the DJ?